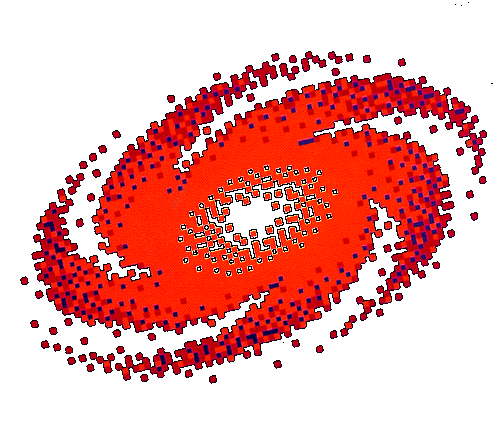 The Frankfurt Galaxy was an American football team based in Frankfurt, Germany, playing in NFL Europa. They were one of only two original NFL Europa teams remaining when the league folded, and were the only one still in its original city. They played in Commerzbank-Arena, formerly known as Waldstadion.
In 1991, the Galaxy was a founding member of the World League of American Football (WLAF). They hosted the first ever WLAF game against the London Monarchs at Waldstadion on March 23, 1991 and scored the first ever WLAF points with a safety, but lost the game.
When the World League resumed in 1995, the Galaxy, the Monarchs, and Barcelona Dragons were the only former WLAF teams that continued playing. Both of these other have since folded, which made the Galaxy the oldest pro football team outside of the NFL and CFL.
Frankfurt won the World Bowl four times in 1995, 1999, 2003 and 2006, but had been unable to defend it, as they also lost four times, in 1996, 1998, 2004, and 2007.
From NFL.COM
Frankfurt's 'Big Bang' occurred in 1991, the year the Galaxy played its inaugural season. The Galaxy is the sole remaining founding team of the NFL Europe League. Frankfurt has played in the World Bowl seven times, winning a record four titles in 1995, 1999, 2003 and 2006.
With a record of 7-3, the Galaxy just missed the playoffs in 1991. A close to capacity crowd of 51,653 fans witnessed the Galaxy's decisive loss against Sacramento in the season's home finale. Despite dropping to 3-7 in 1992, Galaxy led the league with an average attendance of 36,000.
In 1994, when Oliver Luck left Frankfurt, Christoph Heyne became the new General Manager and hired Ernie Stautner, the only German born member of the 'Hall of Fame', as the new head coach, succeeding Jack Elway. On June 17, 1995, Frankfurt defeated the Amsterdam Admirals 26-22 in the World Bowl. Quarterback Paul Justin, allocated by the Indianapolis Colts, threw three TD passes and was voted the game's MVP. In 1996, the Galaxy became the first team with two World Bowl appearances. Forced to play the championship game on the road again, the Galaxy were defeated 32-27 by the Scottish Claymores. Munich-born running back Ingo Seibert was voted Europe's 'Best Offensive Player'. The award for 'Best Defensive Player' went to the Galaxy's Frank Messmer in 1997, a season notable for some narrow defeats and the team's first losing season (4-6) in three years.
Coach Stautner's contract was not renewed and on October 17, 1997, Dick Curl was appointed as the third head coach in the Galaxy's history. Curl, who declined an offer by the New Orleans Saints in favor of Frankfurt, had been the offensive coordinator of the Barcelona Dragons since 1991. In his first season as a head coach, Curl led the Galaxy to its best record (7-3) since 1991 and a berth in the World Bowl. In front of 47,847 spectators in the Waldstadion Galaxy lost 34-10 to Rhein Fire.
The Galaxy went one step better in 1999 as they became the first team in league history to win a second World Bowl, adding the 1999 crown to their 1995 success with a 38-24 victory over the Barcelona Dragons in the Rheinstadion, Dusseldorf. Curl was voted Coach of the Year for the second season running after his 'two-headed monster' quarterback system proved effective. The Galaxy again attracted large attendances to the Waldstadion and 42,127 watched their final regular season game, a World Bowl '99 preview against the Dragons.
In 2000 the Galaxy suffered a rare losing season, finishing the year with a 4-6 record and Curl moved on to the Kansas City Chiefs, opening the way for new head coach Doug Graber to lead the Galaxy in 2001. Injuries, particularly at quarterback, and special teams errors proved costly and in his first season Graber's team finished the season with a 3-7 record.
In 2002, the Galaxy made a fast start, opening the year with four straight victories. An injury to starting quarterback Joe Hamilton hurt the Galaxy in the second half of the season and they posted a 2-3 record over the final five games. A Week 10 loss to Berlin in a World Bowl decider ended Frankfurt's championship hopes.
After three years of absence from the finals the Galaxy won it`s third title in 2004. World Bowl XI at Hampden Park in Glasgow was dominated by the "Men in Purple". They beat Rhein Fire 35-16 and became the first team in NFL Europe League history to win a third Championship. The Galaxy is now the most successful team in league history.
On January 30, 2004, Mike Jones was unveiled as the Galaxy's new head coach, replacing Doug Graber, who joined the New York Jets. The 2004 season started with a sensational 34-11 win over the Amsterdam Admirals followed by victories against the new Cologne team and the arch-rival Rhein Fire. Frankfurt posted a 7-3 record but beating the Berlin Thunder proved too much for the Galaxy as they fell to Rick Lantz's team twice in the regular season and by a 30-24 scoreline in World Bowl XII. In 2005, the Galaxy won just three games but did lead NFL Europe with an average of more than 29,000 fans per contest.
Frankfurt returned to its very best in 2006, winning a league record fourth World Bowl with a 22-7 defeat of the Amsterdam Admirals in the championship game. The Galaxy won seven regular season games before lifting the World Bowl trophy in Düsseldorf's LTU arena.
THE COACHES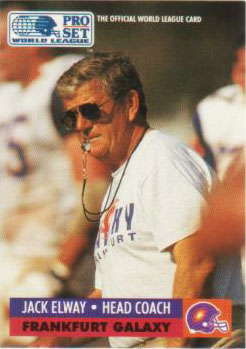 Jack Elway
(1991-1992)
John Albert "Jack" Elway, Sr. (May 30, 1931 – April 15, 2001) was an American football coach, and the father of the Hall of Fame quarterback John Elway.
Elway was a native of Hoquiam, Washington, and played quarterback at Washington State in Pullman in the early 1950s, where he earned both bachelor's and master's degrees.
Elway then taught and coached at Port Angeles High School. In 1961 he was hired as the head coach at Grays Harbor College, a junior college in Aberdeen, near his hometown of Hoquiam in southwestern Washington. In 1966 he became an assistant coach at the University of Montana in Missoula. He moved to his alma mater in 1969, as an assistant under head coach Jim Sweeney, and stayed in Pullman through the 1975 season.
Head coaching career
In 1976, Elway became a head coach, at Cal State Northridge in the San Fernando Valley of Los Angeles. At that time, his son, John, was an impressive high school quarterback. Transferring from Pullman to Granada Hills High School before his junior year, his play invited scores of scholarship offers; he selected Stanford and enrolled in 1978.
After three seasons at Northridge, Jack Elway moved up the California coast to San Jose State in 1979, where his first offensive coordinator was Dennis Erickson. San Jose State had considerable success, especially against Stanford, where son John was the starting quarterback through the 1982 season. Jack Elway's Spartans won three consecutive games over Stanford from 1981–83, and he compiled an overall record of 35–20–1 (.634) in five seasons.
After John's graduation, Jack Elway moved the few miles up the peninsula to Stanford in 1984, where he was head coach for five seasons and compiled 25–29–2 record (.446). In 1991 he coached the Frankfurt Galaxy of the WLAF during the team's first two years. Elway later worked in the Denver Broncos scouting department from 1993–99, the last five as director of pro scouting.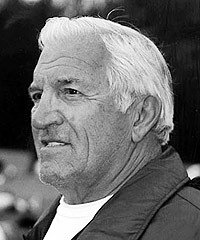 Ernie Stautner
(1995-1997)
Ernest Alfred Stautner (April 20, 1925 – February 16, 2006) was a German-born American football player and coach who starred as a defensive tackle with the Pittsburgh Steelers.
Biography
Born in Prinzing near Cham, Bavaria in Germany, Stautner's family immigrated to Albany, New York when he was three years old. He served in the United States Marine Corps before attending Boston College, where he was a four-year starter as an offensive and defensive tackle. He earned a bachelor's degree in psychology in 1950.
After being selected in the second round of the 1950 NFL Draft, Stautner played his entire career with the Steelers from 1950 to 1963. Despite being small even for his day at 6-1 and 235 pounds, he distinguished himself as one of the best defensive linemen of his era as he became the cornerstone of the Steelers bruising defense. Stautner was selected to nine Pro Bowls in his fourteen-year career and only missed six games. He also made all-NFL in 1955, 1956, 1958, 1959. He retired as the career leader in safeties with 3 and ranked third in fumble recoveries with 23. He also saw spot service at offensive guard.
Stautner was inducted into the Pro Football Hall of Fame on September 13, 1969, his first year of eligibility. Stautner is the only player to ever have his number (70) officially retired by the Steelers.
From 1966 to 1988, he was an assistant coach with the Dallas Cowboys, and served as the team's defensive coordinator from 1973 to 1988. He was instrumental in the development of players such as Randy White and Ed "Too Tall" Jones. Stautner stayed on with the Cowboys from 1988 to 1989 as a scout and then coached the Dallas Texans, an Arena Football League team, from 1990 to 1991. Stautner was the defensive line coach for the Denver Broncos from 1991 to 1994. While with the Broncos, he coached under both Dan Reeves and Wade Phillips.
From 1995 to 1997, he returned to Germany to become head coach of the Frankfurt Galaxy of NFL Europe. He would guide the team to two consecutive World Bowls in 1995 and 1996, winning in 1995.
Stautner was elected to the Steelers 50th anniversary team in 1982. Stautner was elected posthumously by the Pittsburgh Steeler fans to the Steelers 75th Anniversary All-Time Team in November 2007.
Stautner died at a Carbondale, Colorado nursing home at age 80 from complications of Alzheimer's disease. He is buried in Texas. He is survived by his wife, Jill Stautner of Colorado, daughters Tere Stautner of Texas and Carol Stautner Hinds, grandchildren Zachary Hinds, Alexander Hinds and Rachel Hinds of Colorado and grandchildren Danielle Stautner, Jodie Stautner and Joseph Stautner of Texas. He was predeceased by his son, Joseph Stautner.
Miscellaneous
Former Steelers claim that Stautner once had his finger so badly broken, it was pointing the opposite direction. Stautner just simply grabbed it and ripped it into place. He is said to have been extremely tough.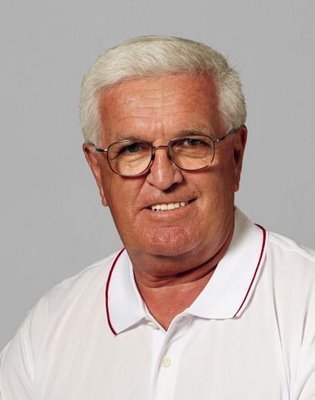 Dick Curl
(1998-2000)
Richard "Dick" Curl (born May 4, 1940 in Chester, Pennsylvania) is an American football coach who is currently the assistant head coach and quarterbacks coach for the St. Louis Rams of the National Football League.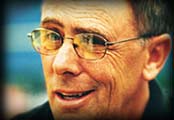 Doug Graber
(2001-2003)
Doug Graber (born September 26, 1944 in Detroit, Michigan) is an American football coach. He is currently the defensive coordinator of the Ball State Cardinals college football team. He was hired to the position in January 2009.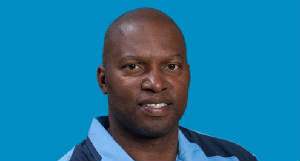 Mike Jones
(2004-2007)
Tennessee State Tigers

Offensive Coordinator
Wide Receiver

Personal information

Date of birth: April 14, 1960 (

1960-04-14

)
Place of birth: Chattanooga, Tennessee

Career information

College: Tennessee State
NFL Draft: 1983 / Round: 6 / Pick: 159
Debuted in 1983 for the Minnesota Vikings
Last played in 1989 for the New Orleans Saints

Career history

As player:


Minnesota Vikings (1983–1985)
New Orleans Saints (1986–1987)
Kansas City Chiefs (1988)
New England Patriots (1989)
New Orleans Saints (1989)

As coach:


Rhein Fire (1998–2000)
Wide Receivers Coach
Orlando Rage (2001)
Wide Receivers Coach
Rhein Fire (2002–2003)
Offensive Coordinator
Frankfurt Galaxy (2004–2007)
Head Coach
Toronto Argonauts (2009)
Receivers Coach
Tennessee State University (2010–present)
Offensive Coordinator

Career highlights and awards

World Bowl champion (VI, VIII, XIV)

Stats at NFL.com
THE UNIFORMS
The Frankfurt Galaxy uniform changed many times over its 15 year exisitence. The original uniform (1991-1992) was made by Wilson. For the 1995-1997 seasons, Reebok supplied the uniforms made by Fab-Knit. In 1998 when the league changed its name to NFL Europe, Puma was the supplier which lasted until 2000. From 2001 until the end of the league, Reebok returned as the official supplier. The helmet has always been by Riddell with the only major change being the color of the facemask. In 1991-1992, the facemask was purple with the plastic kra-lite facemask. When the league returned in 1995, their facemask when to orange.
1991-1992 Uniform
| | |
| --- | --- |
| 1991 Galaxy Promotional Folder | 1991 Galaxy Game Used Helmet |
| 1992 Galaxy Game Used Away Jersey #75 Dave Senczyszyn T | |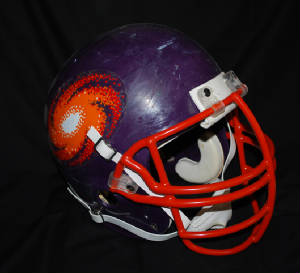 1995 Game Used Helmet
| | |
| --- | --- |
| 1995 Galaxy Unissued Home Jersey #94 | 1995 Reebok Away Jersey (unused) |
| 1996 Galaxy Home Jersey #7 | 1996 Galaxy Game Used Home Jersey #73 |
| 1997 Galaxy News (No. 3) | |
1998-2007 Uniform
| | |
| --- | --- |
| | |
| 2002 Galaxy Game Used Home Jersey #28 Rashidi Barnes DB | Gameday Magazine (5-10-03) vs Claymores |
| 2003 Galaxy Game Used Away Jersey #66 Pete Campion OT | Galaxy Gameday Magazine (April 8, 2006) vs Centurions |
THE STADIUM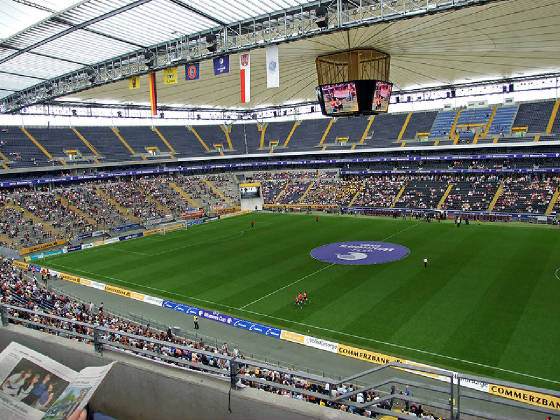 The Commerzbank-Arena is a sports stadium in Frankfurt, Germany. Commonly known by its original name, Waldstadion ("Forest Stadium"), the stadium opened in 1925. The stadium has been upgraded several times since then; the most recent remodelling was its redevelopment as a football-only stadium in preparation for the 2005 FIFA Confederations Cup and 2006 FIFA World Cup. With a capacity of 51,500 spectators, it is among the ten largest football stadiums in Germany.
The sports complex, which is owned by the city of Frankfurt, includes the actual stadium and other sports facilities, including a swimming pool, a tennis complex, a beach volleyball court and a winter sports hall. The arena has its own railway station, Frankfurt Stadion, on the national rail network.
The Commerzbank-Arena is home stadium of football club Eintracht Frankfurt whose offices are also located on the premises.
Former names
Waldstadion (1925-2005)
FIFA World Cup Stadium, Frankfurt (2006 FIFA World Cup)
Location
Frankfurt, Hesse
Germany
Built
1925
Opened
May 21, 1925
Renovated
1937, 1953, 1974, 2005
Owner
Waldstadion Frankfurt Gesellschaft für Projektentwicklung
Operator
Stadion Frankfurt Management GmbH
Surface
Grass
Construction cost
€ 150 million

[

1

]

Architect
Gerkan, Marg & Partner

[

2

]


Max Bögl

[

3

]

Capacity
Football: 52,300 (9,300 standing)
American football: 48,000
Concert: 55,000
Executive Suites
81
Field dimensions
105 m x 68 m
Tenants
Eintracht Frankfurt (Bundesliga) 1925-present
Frankfurt Galaxy (NFL Europa) 1995-2007
SV Wehen Wiesbaden (2nd Bundesliga) 2007
FSV Frankfurt (2nd Bundesliga) 2008-2009
Season-By-Season
Note: W = Wins, L = Losses, T = Ties
Season
W
L
T
Finish
Playoff results
Frankfurt Galaxy (WLAF)
1991
7
3
0
3rd European Division
--
1992
3
7
0
2nd European Division
--
1993
Did Not Play
1994
Frankfurt Galaxy (World League)
1995
6
4
0
2nd League
Won World Bowl III (Admirals)
1996
6
4
0
2nd League
Lost World Bowl IV (Claymores)
Frankfurt Galaxy (NFL Europe)
1997
4
6
0
6th League
--
1998
7
3
0
2nd League
Lost World Bowl VI (Fire)
1999
6
4
0
2nd League
Won World Bowl VII (Dragons)
2000
4
6
0
5th League
--
2001
3
7
0
6th League
--
2002
6
4
0
3rd League
--
2003
6
4
0
1st League
Won World Bowl XI (Fire)
2004
7
3
0
2nd League
Lost World Bowl XII (Thunder)
2005
3
7
0
5th League
--
2006
7
3
0
2nd League
Won World Bowl XIV (Admirals)
Frankfurt Galaxy (NFL Europa)
2007
7
3
0
2nd League
Lost World Bowl XV (Sea Devils)
Totals
85
72
0
(including playoffs)
Notable players