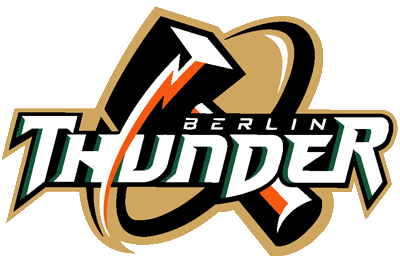 Berlin Thunder - Team History
Founded: 1998
Stadium: Olympic Stadium
---
In 1998, Berlin was announced as the newest team to be added to the NFL Europe League. In cooperation with the B.Z., Berlin's best-selling newspaper, and Radio Energy 103.4, the people of Berlin chose the name of the team, 'Berlin Thunder'.
The Thunder made a slow start to life in the NFL Europe League, opening the 1999 season with four losses before NFC Pro bowl kicker David Akers (Philadelphia) landed a 33-yard overtime field goal in the Jahnstadion to record a first franchise win, 22-19 against Amsterdam. Head coach Wes Chandler's team finished the campaign with a 3-7 record. Chandler moved on to become wide receivers coach of the Dallas Cowboys in the off-season.
In 2000, new head coach Peter Vaas arrived from Barcelona Dragons and kept Thunder in the World Bowl race until late in the campaign. Despite failing to reach World Bowl, the Thunder finished the season with a 4-6 record and proved they were heading in the right direction.
Berlin Thunder crowned a successful 2001 season with victory in World Bowl IX when on June 30 the 8-2 Barcelona Dragons were beaten 24-17 in the Amsterdam ArenA. Quarterback Jonathan Quinn led his team to a 6-4 record despite a slow start that included two losses in the first three games. The World Bowl berth was secured with a 34-28 victory in week 10 in Amsterdam. Quinn was fittingly named MVP of World Bowl IX and was also named to the All-League team having played a dominant role throughout the season, passing for a team-record 24 touchdowns, the second-most in NFLEL history.
In 2002, the Thunder made a slow start to their title defense, dropping the opening three games of the year. They rallied down the stretch with offensive stars quarterback Todd Husak, running back Anthony White who joined the team from week 4 and wide receiver Dane Looker leading the way to compile a 6-4 record - good enough for a berth in World Bowl X. Going into the Championship Game as the hottest team in the league, Berlin recorded a 26-20 victory over the hometown Rhein Fire in the final NFLEL game played at Düsseldorf's Rheinstadion.
Victory meant Berlin became the first team to go 0-3 and win a World Bowl and also became the first club to win back-to-back championships.
In 2003, Berlin Thunder was looking for the third straight title in "Mission threepeat". The move to Berlin's famous Olympic Stadium gave the Thunder a new attendance record with 16,312 spectators in the very first game versus Rhein Fire and a new overall record with 12,238 per game. On the field there wasn´t as much success and the Thunder finished the campaign with a 3-7 record.
The 2004 season was the most successful in club history with new head coach Rick Lantz guiding his team to an NFL Europe League-best 9-1 regular season record, culminating in a 30-24 defeat of the Frankfurt Galaxy in World Bowl XII. By winning their third league title in four years, the Thunder joined Frankfurt as the only team to win three World Bowls.
In 2005, Berlin won seven games and became the first team in league history to repeat as regular season champions. Their 16 wins in 2004 and 2005 were a league record for a two-year span. The 2005 campaign also saw Berlin break its attendance record as 20,927 fans saw the Thunder take on the Cologne Centurions in Week 10. But the season ended in disappointment as the Thunder fell to a 27-21 defeat at the hands of the Amsterdam Admirals in World Bowl XIII. The 2006 season proved to be Lantz's final campaign in Berlin as the Thunder finished bottom of the standings with a 2-7-1 mark. Lantz joined the Rhein Fire in January, 2007, while John Allen was unveiled as the fourth head coach in team history.
From Wikipedia.org
The Berlin Thunder were a professional American football team in NFL Europa, which is a springtime American football league serving primarily as a developmental league for the National Football League. Most of the players were young American professional players assigned by NFL teams to receive additional game experience and coaching. Coaching staffs are predominantly provided by the NFL for developmental purposes as well. In addition, "national" players, or non-American players, compete on each team. Berlin's 2006 squad included players from Germany, Finland, England, Mexico and Japan. Players and coaches had their living expenses paid for by the league while in Europe in addition to their salaries They currently play their home games at Olympic Stadium.
The Thunder came into existence as an expansion team, after the London/England Monarchs franchise shut down operations, prior to the 1999 season.
The Thunder have won the World Bowl 3 times: 2001, 2002 and 2004 (a year that they went 9-1).
They also made it to the World Bowl in 2005, but were narrowly defeated by the Amsterdam Admirals. The final score was 27-21.
Two Berlin quarterbacks, Rohan Davey (2004) and Dave Ragone (2005), were named NFL Europe Offensive Most Valuable Playerss. Linebacker Rich Scanlon (2005) was named NFL Europe Defensive MVP. In 2006, the Thunder had three players earn All-NFL Europe honors: guard Chad Beasley and safety (football position) Anthony Floyd earned all-league honors at their respective positions and German defensive end Christian Mohr was honored as the national player on the defensive all-league team.
On April Fools Day 2006, the Thunder recorded their very first tie in franchise history. Trailing the Hamburg Sea Devils 17-0 at halftime, the Thunder erased their deficit to tie it up, going into overtime. Unfortunately, neither team could come up with a point in the extra period. This was only the second tie in the history of NFL Europa. The previous tie came in the 1992 season between the Birmingham Fire and the London Monarchs. The final score for that game was also 17-17.

Wesley Sandy "Wes" Chandler (born August 22, 1956) is a former American college and professional football player who was a wide receiver in the National Football League (NFL) for eleven seasons in the 1970s and 1980s. Chandler played college football for the University of Florida, and thereafter, he played professionally for the New Orleans Saints, the San Diego Chargers and the San Francisco 49ers of the NFL. After retiring as a player, Chandler has become a football coach, and most recently he was the offensive coordinator for the Hartford Colonials of the United Football League (UFL).
Pro career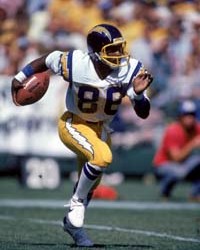 After college, the New Orleans Saints selected Chandler in the first round (third pick overall) in the 1978 NFL Draft, and he played for the Saints for four seasons. Chandler was selected to the Pro Bowl after his second season in the league after finishing with 1,069 yards and six touchdown receptions. He was traded to the San Diego Chargers in 1981 to replace star receiver John Jefferson, who was traded to the Green Bay Packers after a bitter contract hold-out. He led the NFL with 1,032 receiving yards and nine receiving touchdowns for the strike-shortened 1982 season. His 129 yards receiving per game that year is still an NFL record. Chandler completed his career with the San Francisco 49ers in 1988. One of his more notable performances was in a 1981 AFC playoff game known as The Epic In Miami, where he caught six passes for 106 yards and returned a punt fifty-six yards for a touchdown in the Chargers 41–38 victory. He also caught nine passes for 124 yards in a playoff win over the Pittsburgh Steelers in the following season.
Chandler retired from the NFL during the 1988 season after an eleven-year playing career. During his NFL career, he caught 559 passes for 8,966 yards and fifty-six touchdowns, rushed for eighty-four yards, returned forty-eight kickoffs for 1,048 yards, and gained 428 yards on sixty-seven punt returns. Overall, he amassed 10,526 all-purpose yards. At the time of his retirement, Chandler ranked twelfth in NFL history in receiving yards and thirteenth in receptions. He also earned four Pro Bowl selections, including three with the San Diego Chargers. In 2001, Chandler was inducted into the San Diego Charger Hall of Fame.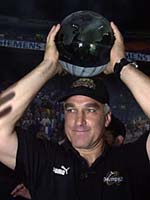 Peter Vaas
(2000 - 2003)
Peter Vaas (born April 26, 1952 in Westwood, Massachusetts) is an American football coach. He is the former offensive coordinator for the Miami RedHawks college football team. He was named to the position on January 2, 2009. He is now an assistant coach on the University of South Florida's football staff under new Head Coach Skip Holtz. The title is the Quarterback's coach. He was given this based on his prior experience.
Playing career
Vaas was a walk-on quarterback at Holy Cross. He was a three-year starter and set nine individual school passing records in his senior season. As a senior he completed 135 passes for 1,631 yards and 13 touchdowns (and five touchdowns in one game). His career numbers included 2,642 passing yards and 21 touchdown passes.
Coaching career
Vaas was the head coach at Allegheny College from 1986-1989 (29-11-1), leading his team to the 1987 NCAA Division III playoffs.
He spent four seasons as the head coach at Holy Cross from 1992-1995. His only winning season came in 1992, when he led his squad to a second place finish in the Patriot League. Vaas entered NFL Europe under Jack Bicknell in 1998-1999 as his quarterbacks and wide recievers coach. The next four years saw Vaas as the head coach of the Berlin Thunder where he remained until the end of the 2003 season where he went to coach the Cologne Centurions.
Title
Quarterbacks Coach
College
University of South Florida
Sport
Football
Conference
Big East
Born
April 26, 1952 (

1952-04-26

)
Place of birth
Westwood, Massachusetts
Career highlights
Overall
43–41–1
Coaching stats
College Football DataWarehouse
Playing career
1971–1973
Holy Cross
Position
Quarterback
Coaching career (HC unless noted)
1986–1989
1990
1991
1992–1995
1996
1998–1999
2000–2003
2004–2005
2005–2006
2007
2009–present
Allegheny
Notre Dame (RB)
Notre Dame (QB)
Holy Cross
Montreal Alouettes (OC)
Barcelona Dragons (QB/WR)
Berlin Thunder
Cologne Centurions
Notre Dame (QB)
Duke (OC/QB)
Miami (OH) (OC)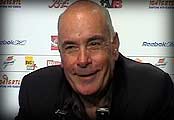 Rick Lantz
(2004-2006)
Rick Lantz was the interim head football coach at Navy in 2000, following the firing of former head coach Charlie Weatherbie. He was formerly a widely recognized defensive coordinator, and held high profile jobs at Virginia, and Louisville. He also served as an assistant coach at Georgia Tech, Miami, Buffalo, and Boston University.
Lantz also coached the Berlin Thunder and Rhein Fire of NFL Europa. In three seasons (2004-06) with the Berlin Thunder, Lantz coached the team to an 18-11-1 regular season record. In addition, the Thunder competed in two World Bowls. Berlin won World Bowl XII 30-24 over the Frankfurt Galaxy on June 12, 2004, in Gelsenkirchen, Germany. The following year, the Thunder fell in World Bowl XIII 27-21 to the Amsterdam Admirals on June 11, 2005, in Düsseldorf, Germany. The 2006 Berlin season included a 17-17 tie on the road against the Hamburg Sea Devils on April 1, one of just two ties in the history of NFL Europa.
Lantz took the reins of the Rhein Fire in 2007, the final season of NFL Europa. He coached the team to a 4-6 record.
Omaha Nighthawks

Defensive Coordinator / Linebackers Coach

Personal information

Date of birth:

Career information

College: Central Connecticut State
No regular season or postseason appearances

Career history

As coach:


University of Louisville (1986–1990)
Defensive Coordinator/Linebackers Coach
University of Virginia (1991–2000)
Defensive Coordinator
United States Naval Academy (2001)
Defensive Coordinator/Linebackers Coach
Interim Head Coach
Barcelona Dragons (2003)
Linebackers Coach
Berlin Thunder (2004–2006)
Head Coach
Rhein Fire (2007)
Head Coach
Omaha Nighthawks (2010–present)
Defensive Coordinator/Linebackers Coach

Career highlights and awards

World Bowl champion (XII)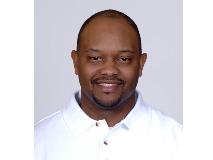 John Allen
(2007)
John Allen is an American football coach. He is currently the Coordinator of Player Personnel & Development at Penn State University. Previously he was the head coach for the Berlin Thunder of NFL Europa.
Playing career
Allen played college football at James Madison University. A three-year starter at JMU, he was a wide receiver and punt returner for the Dukes, and was a captain his senior season.
Coaching career
Allen's first season in NFL Europa league was in 2003 when he served as wide receivers coach of Thunder. His year with them was Allen's first on the professional coaching level, having previously enjoyed successful jobs at Bucknell University (2002) and Lock Haven University, where he worked for six years, rising to the position of offensive coordinator.
His influence on Berlin Thunder was clearly visible in 2003 as seven of his receivers caught 15 passes or more and Berlin scored 20 times on touchdown passes to rank overall second in the NFL Europa League. When Allen moved on to another NFL Europa team in 2004, the Amsterdam Admirals, he guided Amsterdam's offense to second in the league's offensive rankings, averaging 316.6 yards per game. Furthermore, two of the top three positions in receiving yards were occupied by Admiral players. In 2005 Amsterdam went one better under Allen's guidance and supervision and established NFL Europa's most potent attack, averaging no less than 357.4 yards and 25.1 points per game.
In 2006 the Admirals once again led the league with 25.9 points per game and ranked second in total offense, averaging 332.3 yards game.
THE UNIFORM
| | |
| --- | --- |
| 2000 Thunder Game Used Away Jersey #76 Grant Garrett G | 2001 Thunder Game Used Home Jersey #87 Kenny Coutain WR |
| | | |
| --- | --- | --- |
| | | |
The Two Thunder Helmets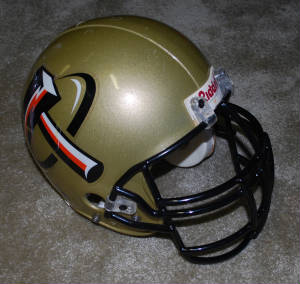 1999 Thunder Game Used Helmet
| | |
| --- | --- |
| 1999 Berlin Thunder Helmet (angled logo) | 2000-2007 Berlin Thunder Helmet |
http://www.misterhabs.com/helmets.htm
THE STADIUM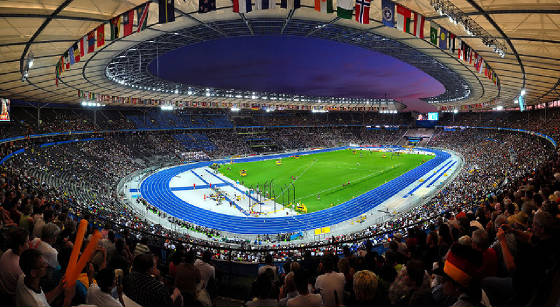 Olympia Stadion (Olympic Stadium)
UEFA Elite Stadium

Full name
Berlin Olympiastadion
Former names
Deutsches Stadion
Location
Berlin, Germany
Coordinates

52°30′53″N

13°14′22″E

 / 

52.51472°N 13.23944°E

 /

52.51472; 13.23944

Coordinates:

52°30′53″N

13°14′22″E

 / 

52.51472°N 13.23944°E

 /

52.51472; 13.23944

Built
1934 to 1936
Opened
1936
Renovated
1974 (Reconfiguration)
2006 (World Cup)
Owner
Olympiastadion Berlin GmbH
Operator
WALTER BAU-AG/DYWIDAG
Surface
Grass
Construction cost
42 million RM (1936)
€242 million (2004)
Architect
Werner March (1936)
Friedrich Wilhelm Krahe (1974)
Capacity
74,228
Field dimensions
105 x 68 m
Tenants
1936 Summer Olympics
Hertha BSC (2. Bundesliga) (1963-present)
Berlin Thunder (NFL Europa) (2004-2007)
2009 World Championships in Athletics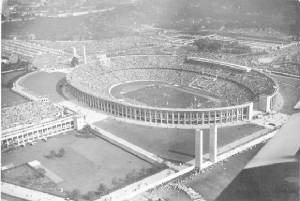 Olympic Stadium in 1936
Berlin, 1936 Summer Olympics
On August 1, 1936, the Olympics were officially inaugurated by the Nazi Dictator, Adolf Hitler, and the Olympic Flame was lit by the athlete Fritz Schilgen.
While the Olympic Flame had been used for the first time in Amsterdam 1928, in Berlin 1936 a marathon-like tour of the Olympic Torch was introduced, from Olympia in Greece, crossing six frontiers with a journey of 3000 km to Berlin, through Greece, Bulgaria, Yugoslavia, Hungary, Czechoslovakia, Austria and Germany. The original idea of this Olympic torch relay was Carl Diem's, who was a notorious political advisor to Nazi Propaganda Minister Joseph Goebbels, specializing in Olympic affairs.
Four million tickets were sold for all the events of the 1936 Summer Olympics. This was also the first Olympics with television transmission (25 giant screens were scattered all over Berlin) and radio transmissions in 28 languages (with 20 radio vans and 300 microphones).
Among the sport competitions, one of the most memorable events was the performance of the African-American track and field athlete Jesse Owens, representing the United States of America. Owens won the gold medal in the 100, 200, long jump and 4 x 100 relay.
The 1936 Olympics held in the stadium were immortalized in the film Olympia (1938) by Leni Riefenstahl.
Season-by-season
Note: W = Wins, L = Losses, T = Ties
Season
W
L
T
Finish
Playoff results
Berlin Thunder (NFL Europe)
1999
3
7
0
6th League
--
2000
4
6
0
6th League
--
2001
6
4
0
2nd League
Won World Bowl IX (Dragons)
2002
6
4
0
2nd League
Won World Bowl X (Fire)
2003
3
7
0
6th League
--
2004
9
1
0
1st League
Won World Bowl XII (Galaxy)
2005
7
3
0
1st League
Lost World Bowl XIII (Admirals)
2006
2
8
1
6th League
--
2007
2
8
0
6th League
--
Total
45
49
1
(including playoffs)
Notable players
David Akers - K (1999)

Chris Barclay - RB (2007)

Lang Campbell - QB (2005)

Rohan Davey- QB (2004)

Anthony Floyd - S (2005)

Ben Hamilton - C (2002)

Israel Idonije - DE (2004)

Dave Ragone - QB (2005)

Brian Simnjanovski - K (2005)

Brian Waters - C/OG (2000)